I am linking up for Miscellany Monday @ lowercase letters.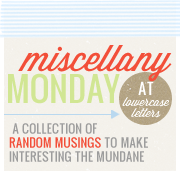 1) I have created 5 things on my TO DO list for October. Of course there are many other things that I could've added to it, but I decided to start with 5 in hopes I will get through all five. I bought a dresser at Ikea over the summer. It is unfinished. I REALLY need to get it painted. I love pumpkin rolls and would love to bring one this year to Thanksgiving dinner, but I need to do a practice one first. I have started the invitations, but I need to get this party planned and pulled off by late October. I do not want to wait until December to take our photos, I would like to get them down this month. I stink at reading books. I want to finish 2 this month.
2) One word to describe our weekend would be relaxing. I love a weekend with no plans and nothing to do. Our weekend consisted of lots of football, cooking (footballs snacks and homemade pizzas), baking (pumpkin bread), and family time. My mom will be in town next weekend, so that will be fun. Sunday morning we got up, ate breakfast, and got dressed to take Madison to cheer in her game. Chris already had the car started and Maddie and I were headed to the car when her coach called to say the game was cancelled due to the weather. So thankful she caught us before we piled in the car.
3) I am about to follow this pin to clean out my dishwasher. I sure hope it works.
4) I went grocery shopping this morning at 7:45. I love going early in the morning. The shelves are usually stocked and there are rarely ever any other shoppers or lines to check out. I have been doing much better going with a meal plan for the week and a detailed grocery list. Tonight I am making this recipe I got off of Pinterest. I hope it tastes good - it only requires 3 ingredients.