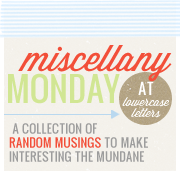 (1) Madison starts 8th grade tomorrow... my oh my... where did the time go? I am not one of those moms who longs for back to school, although I am happy to be back on more of a schedule and to focus on work during the day instead of making sure Madison is entertained. So while I am excited for her to start a new year of school... I also love having her at home. I took the day off of work today so we could spend the day together. We ran by her school to get a few items from the book store we needed, went out to lunch, and went grocery shopping.
(2) My husband and I have been having lots of hard discussions about our life, our marriage, and our future. We are trying to focus more on improving things we have let fall to the wayside. Last night we ended a great weekend with a dinner date out - we had drinks - great seafood and good conversation. It was much needed and enjoyed.
(3) Maddie is cheering for the first time ever and loving it. She is just cheering for the local league. The other weekend they had photos scheduled. We got up and ready only to find out when we arrived they had been cancelled. I love this photo I took of her.
(4) I have been trying like crazy to cook more at home. Today I made these green monster smoothies for my husband before he went to the gym. Last week I made this roast - but I wasn't a fan. We made soft pretzels again - always a hit. Last week I also made carne asada tacos, a lighter version of chicken parmigiana, and homemade pizzas.