I am linking up with Carissa at lowercase letters today for Miscellany Monday.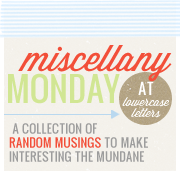 1. Dinner


I made an amazing dinner tonight. I made Chile Honey Chicken. You have to make it. It was excellent.






2. House Hunt



We are house hunting from MANY miles away. We are moving this summer to Rhode Island. We need a house. The houses we

love

are too expensive. The houses that are affordable are crappy. Sigh. I love my house here and wish we could just take it with us.



3. Baking



I baked a bunch this weekend. My husband sold it to the guys at his job. I made

$50

today.

WOOHOO!!

I plan on making mini chocolate bundt cakes with peanut butter frosting and chocolate ganache with a peanut butter cup garnish and some St. Patrick's Day cupcakes for him to sell next week.