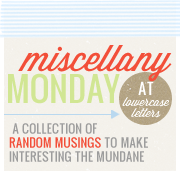 1. No work Monday
My mom came into town yesterday for work. Madison and I both stayed home from school today to hang out with her. Our plan is for some lunch (hopefully Chipotle) and shopping in a bit. I also need to go to the grocery store (which I neglected to go to yesterday). It is raining and thundering now and I am REALLY hoping my power doesn't go out.
2. Cookies
I made an order of jumbo chocolate chip cookies last night for an order my husband took at this job. I also made some regular sized ones too. I used a new recipe and these were AMAZING. I love when I make something and impress myself.
3. Catching up on some TV
After my husband left for work this morning I couldn't fall back asleep. So I caught up on an episode of The Real Housewives of Orange County and an episode of One Born Every Minute.
4. A future art project
I picked up the materials at the local arts and crafts store last night to make this art project that I read about on the blog, Two Girls Being Crafty. It is a knock-off of a piece sold at a popular store. Canvases were 50% off so I chose two 8x8 canvases to attempt this project. If all goes well...I will share the results soon. Isn't it so neat?