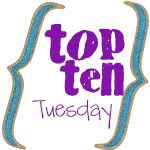 1. Tonight on one of my favorite blogs,
Kelly's Korner
she mentioned a prayer request for a family who had just lost their daughter. I went to the
Harrison Family's page
and felt such sadness. This poor family lost their baby in her sleep due to meningitis. So sad. It just really makes you think how blessed you are to have healthy children.
2. I received my first holiday gift from a student today. It was a holiday tin filled with a spicy homemade snack mix - there were nuts, crackers, pretzels, etc... It was fabulous and such a nice treat.
3. I picked up a book I have been wanting to read at BJ's tonight. It was only $4.99 and I cannot wait to read it.
4. I made a DVD set to music using all of my professional wedding photos using
Shutterfly
. It arrived today and I cannot wait to watch it.
5. Thursday is our 3rd Annual Cookie Exchange at work. I am in charge of planning it. I went after work today to pick up the tins and then tonight I picked up two goodies - mini cinnamon rolls and a holiday fruit bowl to serve at the event. Here is the recipe for the cookies I plan on making -
Triple Chocolate Brownie Cookies
.
6. I am pretty much done my Christmas shopping. I am waiting for 3 more packages to arrive. I have a few little things to pick up and I still need to wrap. I picked up all of my wrapping paper, bows, and gift tags this afternoon.
7. Glee is on tonight. I love it...especially Sue...she is my favorite. Umm...as I was working on this blog post...I turned it on...and it is a rerun. Boo!
8. I love etsy. I bought a ton of things from my wedding on etsy like our pink and lime green poms to decorate the reception from Prost to the Host, the personalized napkins we ordered from Terequade, or our wedding bands from Titanium Knights.
9. There are 2 1/2 work days left this week and 2 work days next week. I love Christmas vacation. Woohoo.
10. This weekend we went to see the Holiday Lights at the Beach on the boardwalk. Here are some of the photos we took.
Check out some other Top Ten Tuesday lists over at
Oh Amanda
. If you ended up here from Oh Amanda...leave a comment, become a follower, and I will check out your blog.