I am linking up with Shannon at Life After I Do for -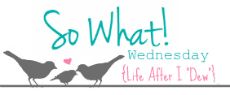 SO WHAT... if this morning after I put Madison on the bus I got back in bed. I then watched Teen Mom (Jenelle is a MESS) and then Tori & Dean before work at 10 AM.
SO WHAT... if for the past three days I ate my lunch (a homemade chicken salad sandwich on rye) during breakfast time and my breakfast (Van's whole grain waffles) during lunch time. Yep... I have had the exact same breakfast and lunch the past three days.
SO WHAT... I am really considered deleting the Facebook app from my phone. I am way too addicted to it.
SO WHAT... if we've had pizza twice this week. My husband ordered pizza on Monday while I was working instead of making the dinner I had planned. Tonight I made homemade pizzas - a pepperoni and a BBQ chicken one.
SO WHAT... if my exciting activity tomorrow is a trip to Wal Mart. Madison is babysitting in the afternoon and we need shelves for our garage and an organizer for our bathroom.
SO WHAT... if I don't tum our heat up past 62 degrees in the winter. We can very easily cover up with blankets while watching TV in the evenings. Plus Madison has two down comforters on her bed. She is plenty warm enough. Oil heat is expensive. I keep it at 59 during the day when it is just me at home and when we sleep at night. It really isn't as cold as that may seem.