It's time for SO What Wednesday...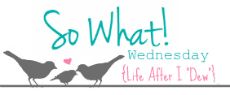 SO what... if worked sucked yesterday. We were swamped due to a new app launch and I worked my butt off all day.
SO what... if my boss messaged me to ask me if I was also working while listening in to a conference call... really? Of course I was... Our clients were able to call in to something called a war room to ask questions... so sometimes the war room was dead and other times it was super busy. I was just supposed to listen in (my phone was on mute) to hear how they go as I have never been part of one before. While doing this I worked and worked and worked my entire shift.
SO what... it still beats all of the hassles and headaches of teaching... even on the crappy days.
SO what... if I had the worst stomach bug ever on Monday... like you wouldn't believe me if I told you how awful it was... and embarassing...
SO what... if I didn't make it to the grocery store this week until Tuesday...and I didn't meal plan... and just added the ingredients for three quick dinners I knew I could quickly make.
SO what... if I emailed our accountant twice asking where my packet was to submit out taxes... and still haven't filled out the form or printed out my husband's W-2s.
SO what... if I read an article via Facebook about how soda is so horrendous for you...and here I sit drinking a diet wild cherry Pepsi.
SO what... if my sister texted me yesterday to tell me she had to put her dog to sleep. And I cried. I don't even like dogs...or pets...or most animals... but I was sad... so sad for my sister, her husband, and their two small kids.