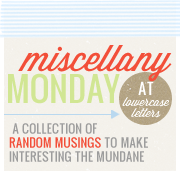 1. the weekend
Madison is finally feeling back to normal after about a week of sickness, a trip to the ER, and 2 different prescriptions. We ended up having a fabulous weekend that included lunch at my favorite place, a trip to Target, a trip to World Market (where I got hot pink and lime green cupcake liners...among other things), and fabulous weather.
2. new blog
Check out this new blog, Create & Share. It is a fabulous new place to get and share ideas.
3. husband's birthday
My husband turns 34 on Tuesday. I am planning a small surprise birthday dinner. I am also baking his cake. Due to a bunch of running around this weekend I need to go to the store tonight to get the ingredients to bake his cake. I am pretty sure I will be making a double chocolate cake and a strawberry cake - recipes to follow.