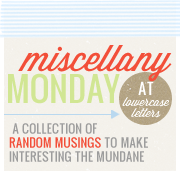 I am looking for my blogging mojo - I have a list of things I want to write about - some recipes, some awesome recent etsy finds, the final design for my etsy shop, etc...but sometimes reality TV, Words with Friends, and Pinterest steal all of my time.
Recently I made balsamic brown sugar pork loin, mock Hostess chocolate cupcakes- which were amazing, another batch of my peanut butter chocolate chip blondies - except this time I added more peanut butter and chocolate chips and they were even more fabulous. , and an awesome breakfast casserole...all of which I am hoping to blog about and share the recipes of soon.
I am anxious for the end of the school year...the kids are antsy and wild...and don't want to be there. It hasn't been fun.
I am hoping to have the photos my wedding photographer took last week back sometime this week to share. So I will be on the lookout for some canvas deals/codes...if anyone knows of some let me know.
I think I found some new fabric for my new living room... what do you think? I like the bright fun colors and patterns. I wish I could just make a decision.