One of the first blogs I started reading was Kelly's Korner. She started my love of blogs and blogging. Today she is doing a linky party to share your
favorite blogs
.... So I am going to highlight a few. I think you should definitely add these blogs to your Google Reader. You will not be disappointed.
I love love love Megan from
In This Wonderful Life
. Megan just had the most adorable twin babies, Knox and Sloane. If you haven't checked out her blog, you have to.
Then there is
Happy Go Lucky
. I worked with Kara as a teacher for 8 years. She has great decorating and craft ideas. She also does a weekly blog hop. Check her out.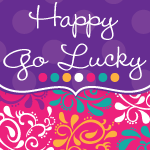 Then there is
Tales of the Trees
. Megan just had a sweet baby too. His name is Eli and he is super cute. I love her fun blog and the funny things she shares.
Finally is
Keeping Up With the Joneses
. Kendall has great recipes. She is one of my go to's for easy dinners. You definitely need to follow her so you get all of her super recipes.
What are some of your favorite blogs to read?