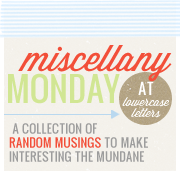 (1) Carissa over at lowercase letters happens to be doing a
giveaway today
from lisa leonard designs. I love lisa leonard designs. The pendant in my header was ordered from her. We gave it to our daughter on our wedding day to symbolize our marriage. She has a fabulous items and a pretty neat blog. You should definitely check her out.
(2) I am supposed to be on a diet. I went to the grocery store yesterday. It was a long day at work. We had a meeting where there was pizza. I refrained from getting a slice...or two...and then I came home and ordered Papa Johns for dinner. I also plan on baking something tonight. And eating what I baked Oh well...tomorrow is a fresh start.
(3) It is supposed to snow tonight. It better. I need a day off. Yes...another one. Next week I also have several days I am taking off of work. I still need a snow day. I will take all of the days off of work I can get.
(4) I missed Real Housewives of Atlanta last night. I MUST watch it tonight.
(5) My friend Kara over at Happy Go Lucky is starting a new Wacky Wednesday link up. So check out her blog...start thinking of your Wacky Wednesday post ...and participate...please. She should have a post up tonight regarding how it will work with a button that will link back to her page to share with everyone.