Kara over at Happy Go Lucky
and I are co-hosting our first Wacky Wednesday blog hop party.
1. Create a blog post on your blog sharing funny memories, quotes, and events you've experienced recently. This can be anything that you feel will make others laugh.
2. Link up your blog on her page.
3. Be sure to grab the button below and add it to your site so others can join in on the fun. Follow both of us and we will be sure to follow back.
4. Read what others are writing about and share some love by leaving comments.
5. Have a great Wednesday and enjoy a good laugh with us!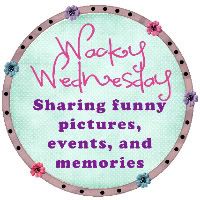 Here's what's making me laugh lately:
Here is a funny picture of my daughter in her 'nerd' glasses my husband made for her out of some 3D glasses they picked up at a recent movie. She thought it was the funniest thing ever.
What's made you laugh lately? Link up your Wacky Wednesday post and have fun! Don't forget to show some love to the rest of the participants by leaving comments. We can't wait to read your posts!
Thanks for making us laugh!