I have been reading Shannon's blog for awhile and thought I would link up today for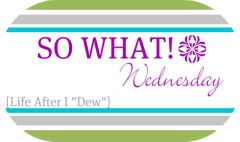 This week I'm saying SO WHAT if...
~ So what if I have not bought one thing for my husband for Christmas. I think I will go tomorrow. We are just doing stockings this year.
~ So what if my new idea of treating myself...is driving down to the local gas station for a 32 ounce fountain soda... 1/4 cherry coke and 3/4 diet coke.
~ So what if my breakfast this morning consisted of one buckeye candy and my lunch so far has consisted of a handful of cinnamon sugar pretzels (I made both yesterday...see that post for recipes)
~ So what if I really don't feel like adding the links to those two recipes for you... but it is worth going back to get them (for you).
~ So what if I haven't paid my Direct TV bill this month... I think it is overpriced...a waste of money... and I kind of want to just cancel it (or get it cut off) to see if we can manage with out it.
~ So what if I will then miss all of my trash reality shows... I bet there is a way to watch them all online.
~ So what if I too often let dishes pile up in the sink before washing them or clean clothes sit in the dryer before folding them.
~ So what if I really am considering just taking our fake tree (with the ornaments on it and everything) and putting it in the basement until next year.
~ So what if I picked up two lottery tickets (scratch offs) at the gas station earlier to put in Madison's stocking... she likes them.
What are you saying SO WHAT to today?