I am linking up again with Shannon for So What Wednesday.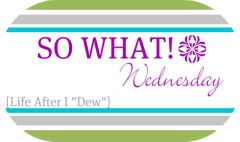 So what

... if it is almost 2012 and I haven't even started my 2011 Shutterfly Family Album. I was ready to just not do it this year, but then I figured one year my kid(s) will look back at the books and wonder where in the heck the 2011 one is? I was talking to Chris about this last night...and he said well 2011 was pretty crappy... Well I have decided to work on making a 2011 one anyway... it may not be very big (many of the photos I took this year from May on were on my iPhone), but I've got to do it.
So what

... if one of my new absolute favorite guilty pleasure shows is TI & Tiny - The Family Hustle on VH1. It airs on Monday nights.
So what

... if I recently discovered (no exxageration) that we have at least 100 picture frames...in all sizes, colors, styles, etc... that are not on the wall... and I bought an 8 x10 black frame last night.
So what...

if when I checked Madison in at the airport on Monday and was trying to tell the ticket agent that she was flying alone... that I could barely get the words out. Not to mention I teared up when she was getting on the plane...and then again when the plane was in the air.
So what

... if I swear way more than I should.
So what

... if it's almost January and I am still wearing my flip flops. I have yet to buy any boots.